Ankh Morpork

Edit
Location & Description
Edit
~ Situated West of main Spawn
Ankh Morpork is a city state and the only of the four kingdoms to depose its king and form a civil society. The theme for the capitol city is inspired by the Discworld novels of Terry Pratchett (if you have never read any Pratchett I suggest you do, his books are awesome).
Ankh Morpork was led by its Patrician TD808 with the help of his City Council.
The society had a peaceful commerce and role-play positive civic authority.
The theme of the main city was something similar to the picture below.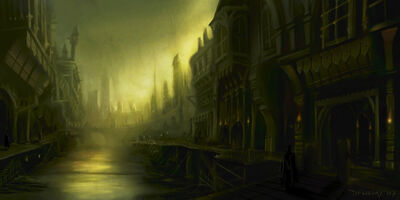 Ankh Morpork promoted equality, freedom and a sense of humour, even with the threat of Morthar 's schemes looming over its citizens.
Dalentarth
Edit
Location & Description
Edit
~ Situated East of main Spawn , Dalentarth 
Malastare
Edit
Location & Description
Edit
~ Situated South of main Spawn , Malastare
Location & Description
Edit
~ Situated North of main Spawn , Norsland